eS

tatements
Go Paperless with eStatements it's Simple, Safe and Secure
Go Paperless with eStatements
eStatements are secure online, electronic versions of your account statements that you can view, search, save and print at your convenience.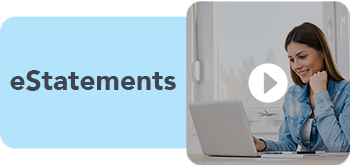 Safe & Secure.
Reduce the chance of a statement getting lost or stolen, plus protect your accounts and identity from fraud. We'll send you an e-mail when you have a new eStatement available. Your eStatements will be safely stored on our secure website.
Simple & Convenient.
Gone are the filing and archiving of monthly bank statements. We will electronically store your eStatements for your use when you need them.
Green and Eco-Friendly.
Only print what you need, when you need it if you need it. See and print up to 18 months of statements online. Store your eStatements electronically on your computer so you can access them anytime. Your eStatements look exactly like the ones you receive by mail.
Steps to Sign up for eStatements
Log into Online Banking

Click on "Profile" in the upper right corner

Scroll Down to the Electronic Statements section

Click the "Edit" button

Select the accounts you want to switch to eStatements

Enter the e-mail address for your eStatement notifications

Read and accept the eStatement Terms and Conditions

Enter the Confirmation Code located on the last page of the Electronic Statement Terms and Conditions.

Click "Save"
To ensure delivery of your eStatement notifications, please add [email protected] to your e-mail program as an authorized sender. Please do not reply to your eStatement notifications, as this email inbox is not monitored. To contact us, email [email protected].
To view your eStatements online, you will need to have Adobe Acrobat Reader®. It's free to download.
Business Customers
Please contact tech support at 320-231-1118 or techsupport@hsbofmn.com to get started.