H

ome State Bank Cards

Home State Bank offers four convenient card products to help simplify your life: Debit Card, HSA Debit Card, Visa Gift Card and the Elan Credit Card.

Debit Card
Use your Home State Bank Debit Card to make purchases and the money will be automatically deducted from your checking account. You can use this card anywhere Mastercard® is accepted around the world. You can also use your Home State Bank Debit Card as an ATM Card to access your checking and savings accounts from any ATM. To learn more click here.

Details
No annual fee

No finance charge

No per transaction fee when used at Home State Bank ATMs

Home State Bank Debit Card can be used worldwide at hotels, airlines, car rental agencies, restaurants, department stores, or specialty shops that honor Mastercard.

Use Home State Bank Debit Card in retail stores, supermarkets, and other locations.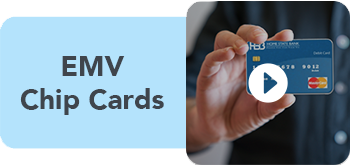 CardValet®
CardValet® allows you to turn your credit or debit card "on" or "off" anytime. When they're "off"...no one can use your cards. Turn them "on" when you're ready to use them. It helps safeguard your cards from fraud, let's you define areas where your card can be used, limit purchase by the type of merchant, and set limits on the dollar amount, giving you complete control over your credit or debit card. To learn more click here.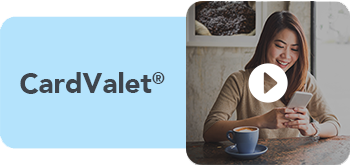 Health Savings Account Debit Card
Use your Home State Bank HSA Debit Card to pay for qualified medical expenses and the money will be automatically deducted from your Health Savings Account.
Details
No annual fee

No finance charge

Use Home State Bank HSA Debit Card at clinics, hospitals, pharmacies and other locations.
Visa Gift Card
Finding the perfect gift just got easier with Home State Bank's Visa Gift Cards! The Visa Gift Card is a prepaid card that can be used anywhere Visa is accepted including retail stores, online merchants, and phone and mail orders. It's an ideal choice for birthdays, holidays, and weddings, and is much safer than cash - it can be replaced if lost or stolen. Call any of our Home State Bank locations for more information!


Credit Cards-Elan Credit Cards
Home State Bank offers a full line of personal and corporate credit cards, giving you the convenience, acceptance, and purchasing power required to buy what your need when you need it. From aggressive pricing to travel rewards, Elan has a card for everyone.
Click here to view your online account: Elan Account Access
Digital Wallet
How to Report a Lost or Stolen Debit Card
You should notify us immediately if your card becomes lost or stolen by using the appropriate phone number shown below. Please note the After Hours number is ONLY for reporting a lost or stolen card after regular banking hours, no other business can be transacted.
Mastercard® Home State Bank cardholders
(320) 231-1118
(800) 472-3272

8am - 5pm

after hours|

weekends|holidays
Account Updater FAQs
What is Account Updater?
Account Updater is a service through Mastercard that provides updated card numbers and expiration dates to merchants who maintain card-on-file account information to process recurring payments.
What is a Card-On-File merchant?
A card-on-file merchant is a merchant that keeps a customer's card number on file for recurring payments.
Which merchants participate in this service?
Mastercard does not share this information. If you get a new debit card, you should update your card information with any merchant with which you have set up a recurring payment.
What are the benefits of this service?
Updated information sent to merchants means recurring payments are more likely to be successful, leading to fewer interruptions in service for you!
Is there anything I need to keep in mind?
If you are closing a card because there is a payment coming out that you want to stop, updated information may be sent to the merchant unless you opt-out of the service. Be sure that you are letting the employee assisting you know why you are closing your card so they can help you decide if opting-out is right for you.
What do I do if I do not want to participate in this service?
Just let us know! Customers can opt-out on a card-level basis. Simply stop in or call any of our four branches to let us know you want to opt-out. Once your opt-out is processed, no information will be sent to any merchants.
I opted-out, but I have reconsidered and want to be enrolled again. What do I do now?
All you have to do is call or stop in at any of our locations and let us know.