D

igital Wallet
A Faster, Easier, and Secure Way to Pay!
Turn your phone into a mobile wallet and leave the plastic at home when you add your Home State Bank Debit Card to Apple Wallet, Google Wallet, or Samsung Wallet!
All the ways you can use your Digital Wallet
In-store
Pay without taking out your wallet or bringing it with you by using your phone or wearable device at the millions of places you see the contactless symbol.
Phones must be unlocked and held up to the symbol on the contactless terminal so the payment system can read your digital account number.
Online and In-apps
Many sites you already shop online accept Digital Wallet, making it a breeze when checking out with prefilled payment information.
At checkout, simply click and log in with your ID to pay.
Secure Shopping
Card number encryption, the account number for your debit or credit card, is replaced with a randomized digital account number. This means your actual card number is never shared with merchants or stored on your device or Apple/Google/Samsung servers, creating an extra layer of security.
$0 Liability on unauthorized charges protects against unauthorized purchases, just like your plastic card.
Your digital wallet is protected the same way you choose to protect your smartphone with Face ID, Touch ID, or passcode.
Click Below to Learn More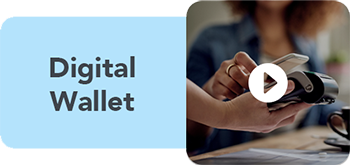 Get Started Today!
Download Apple Wallet, Google Wallet, or Samsung Wallet. Then follow the simple steps to add your Home State Bank Debit Card today!